Credit Suisse: Aussie credit crunch intensifying
This article is written by Damien Boey of Credit Suisse.
Duration of the credit crunch
Yesterday, we published an article explaining why we think that credit tightening will be deeper for longer (attached). Our argument is as follows:
1.    1Q APRA data and credit spreads point to a 10-20% drop in loan approvals in the next few months. But we think that weakness in credit creation is very quickly being priced in.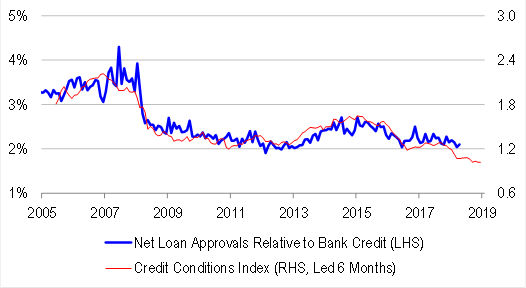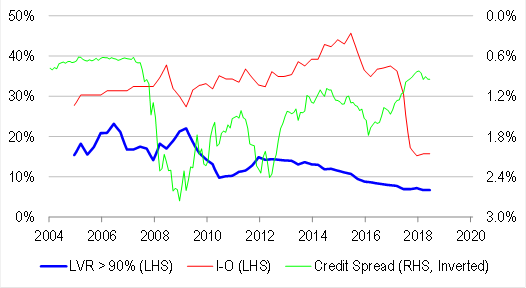 2.    There is more tightening to come on the macro-prudential front. APRA is guiding the banks to limit their high debt-to-income lending (for multiples in excess of 6x). This will hurt – but we should not over-estimate the marginal impact either, given that average loan-to-income ratios in expensive states such as NSW are only around 3.4x for owner-occupiers. The largest impact will be on investors seeking to borrow more, but without having sufficiently paid down their existing debts.
3.    The unpriced tightening is related to money market tightness. Interbank credit spreads are at crisis levels, and are pointing to a 40%+ drop in loan approvals, and out-of-cycle rate hikes. This tightening so far has not been priced in, because investors, banks and policy makers are not quite sure why it is occurring in the first place. Interbank spreads are unusually wide in comparison with credit default swap spreads and market volatility. They are also unusually wide considering that the RBA has injected significant amounts of liquidity into the banking system. But we highlight that regardless of why, wide spreads represent a real increase in funding costs that have to be worn by somebody. Also, we note that historically, banks have always been able to pull other levers to manage high funding costs, such as a deposit rate cuts – but nevertheless, out-of-cycle rate hikes and tightening of lending standards have still occurred.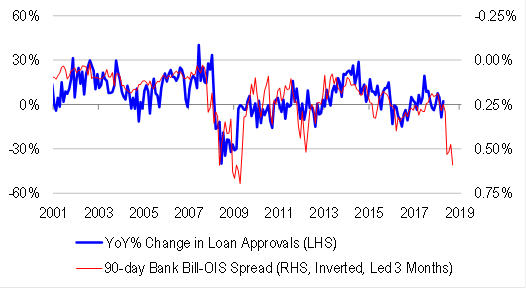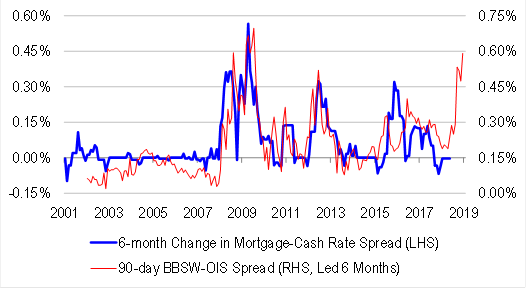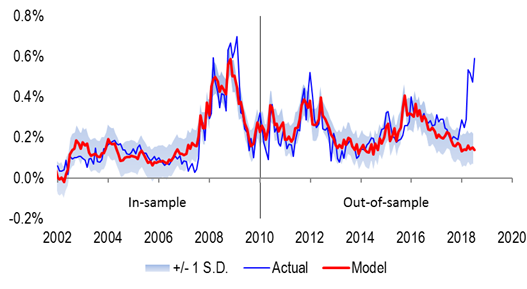 We believe that there are 50bps+ worth of out-of-cycle rate hikes in the pipeline, and this pipeline will continue growing if interbank credit spreads do not come in. The degree of pass through of prospective RBA rate cuts to effective mortgage rates is greatly diminished, with negative consequences for the neutral rate. Indeed, RBA analysis shows that with rates already at low levels, deposit rate cuts will still not be very effective in increasing the degree of pass through to borrowing rates.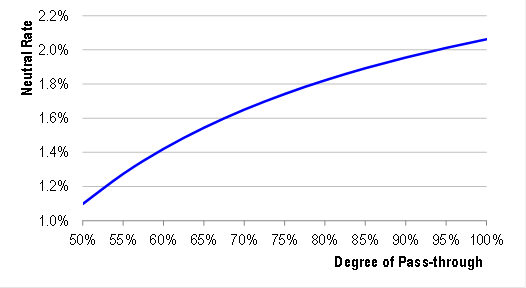 BOQ hikes
At the time of writing, the key uncertainty was whether the banks would actually conduct out-of-cycle rate hikes given the uncertainties about why money markets are so tight, and the highly politically sensitive environment (post Bank Royal Commission). We felt that neither the unexplained variation in interbank spreads, nor heightened political sensitivities were enough to prevent banks from tightening, given what we have learned from history. After all, the alternative to not tightening is to penalize shareholders.
It appears that banks are starting to choose shareholders over everyone else. Yesterday, Bank of Queensland (BOQ) hiked mortgage rates by 9bps for principal plus interest loans, and 15bps for interest-only loans. The hikes follow similar moves from other small lenders such as ME bank and MyState bank. To be sure, only smaller lenders have hiked so far, and it remains to be seen whether the major banks will follow. But if our analysis of funding costs is correct, we are likely to see broad-based hikes, especially if interbank spreads remain wide, or widen further.
Investment implications
At an asset allocation level, we look for more curve flattening. The RBA is resolute that it does not plan to cut rates any time soon. But the issue is that pass through is diminishing greatly, and chewing up the 1.5% worth of ammunition it has left. Rate cuts do not just lack utility, in the senses that they penalize savers over borrowers, or inflame asset price and debt bubbles. They are also futile. But futility is a reason for long-bonds to rally, even as the short-end stays anchored. The issue is that the lack of pass through will result in significant downgrades to estimates of the neutral rate, because eventually, the RBA must work harder to deliver effective relief to households who need it.